Pool Specifications
3D Images
Other Details
Address
Contact US
Pool Specifications
The Desert Falls – A 6,800 Gallon Free Form Pool
The Desert Falls is a wild, free-form fiberglass swimming pool developed by San Juan Pools to closely resemble its sister pool: The Desert Springs. Similar to its sister model, the Desert Falls provides the swimmer with sweeping walls and a basic interior pool design. Aside from the similarity of the two models, they are quite different from one another.
For starters, the Desert Falls provides only one beach entry tanning ledge (while the Desert Springs includes three). Although this leaves less room for water features or lounging, it opens up the swim space for your guests to play and cool off. Secondly, the Desert Falls does not include an attached spa. We made this adjustment for the same reason: to maximize the swim space in this fiberglass swimming pool.
The Similarities: The Desert Falls versus Desert Springs
The key similarity between these two models, however, is their outward appearance. When looking from above, the two have almost identical footprints with the same depth, surface area and water volume. Therefore, you only question to ask yourself is: what pool provides you with the features you are looking for?
Attached Tanning Ledge With Multiple Uses
The beach entry tanning ledge of the Desert Falls is worth noting. This is a wide ledge that provides you with a great space to rest a Ledge Lounger (pool furniture) or install a brilliant water feature. Either way you utilize this space, a tanning ledge is a great option to extend your relaxation space outdoors. Tanning ledges enhance the overall beauty of your fiberglass swimming pool and can create stunning nighttime shows if paired with LED lighting!
6′ 1.25″ Deep End with Bench Seating
As stated above, the Desert Falls has the same exact deep end depth of 6′ 1.25″ as its Desert Springs sister. We've also included a comfortable swim out bench that is embedded in the curve of the deep end wall. This bench seating is a small space that can hold one swimmer and provide a location to rest between swim sessions.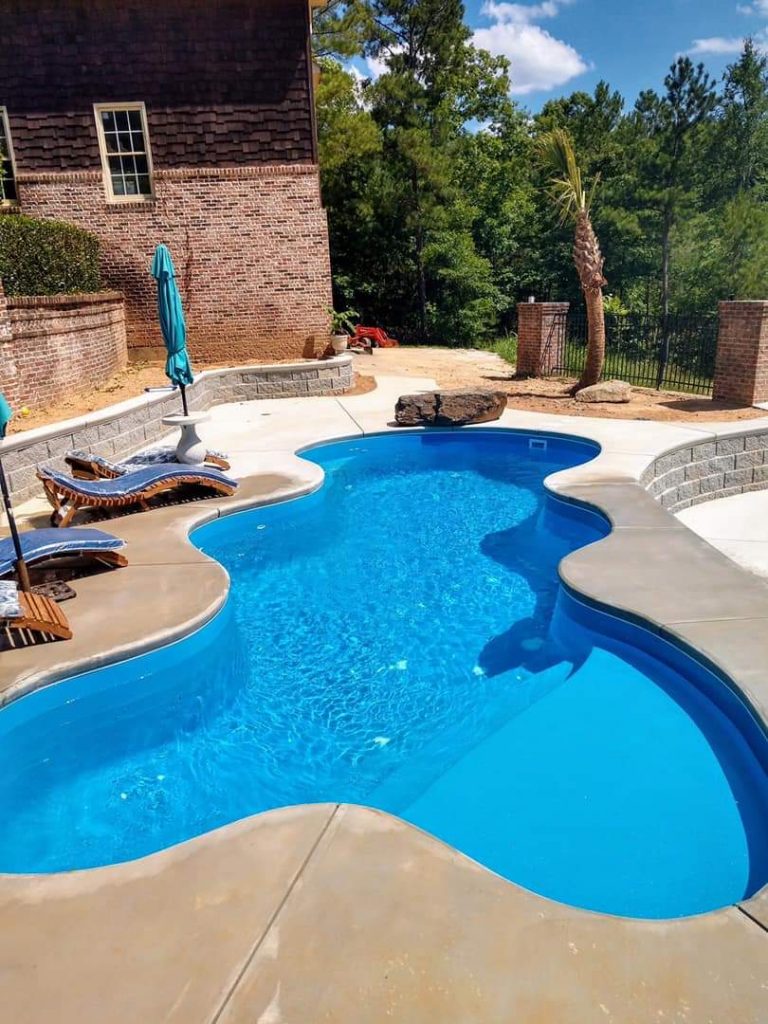 3D Images
Other Details
Address
Contact US